As a curator at the S.M.A.K. (Stedelijk Museum voor Actuele Kunst) in Gent, I organized a series of three film exhibitions in 2007 with work by Jesper Just, Victor Alimpiev and Daria Martin.
In my view these three young artists are among the most inspiring and promising film makers today. Although each of them has their own visual idiom and story, the three contemporaries also share a number of intrinsic and formal interests.  All of them use a highly stylised and aesthetic visual language and frequently refer to other artistic disciplines like cinema, theatre, dance and performance. Their films are theatrical, compelling and emotional even though, paradoxically enough, very little actually happens in them. There is no sign of a traditional storyline with a plot, dialogue or character development. Instead, the camera focuses on the body, the face, a movement of the hand, a glance. The power of their work lies in the concentration on these small gestures which reveal everything to us about interactions between people and their underlying emotions.
Jesper Just
S.M.A.K.
21 April – 24 June 2007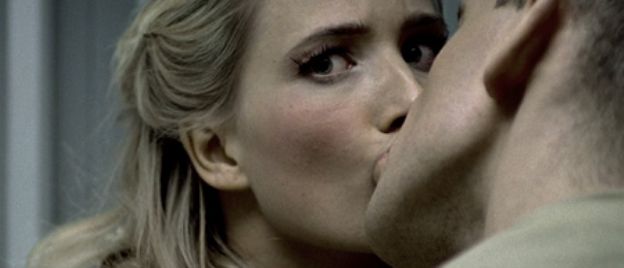 The Danish artist Jesper Just (1974) is currently creating international furore in the arts world. S.M.A.K. is delighted to present a new film by Just entitled A Vicious Undertow (2007). This work was co-produced by S.M.A.K. in collaboration with Witte de With, Rotterdam, and Ursula Blickle Foundation and with the support of the Danish Arts Council.
The first thing that strikes one in Jesper Just's films is their aesthetic quality. In every detail, it is clear that Just's works with a professional filmcrew: the flowing camera movements, the refined light-dark contrasts, perfect casting and locations. It is through these formal qualities, in addition to the fact that he operates strictly within the domain of fiction that Just distinguishes himself from a new generation of artists who depict 'harsh reality' in documentary style, and often do so deliberately amateurishly.
In Just's films, the viewer is seduced by a cinematographic idiom, which we instantly recognise. Then unexpected events begin to take place. The characters suddenly start dancing or singing in public, or cry unashamedly. Singing and dancing are both extreme physical expressions and often the only form of communication in Just's films. They represent the feelings and thoughts that may never be expressed aloud. Until recently, Just's films dealt mainly with male relationships, usually a father and son. In his latest film, however, A Viscious Undertow (2007), for the first time the lead role is a woman. As in his previous films, there is the continuous suggestion of a storyline in the background. Ultimately, Just leaves it to the viewer to tell the story, which is based on memories and associations.
Publication:
On the occasion of this series of exhibitions, S.M.A.K., Witte de With publishers, and the Ursula Bickle Foundation will be publishing Jesper Just's first monograph: Jesper Just. Film Works 2001-2007.