ARTICLE – OCTOBER 2013
A messy collection of thoughts (Please throw away after reading)
By Nina Folkersma
Published in: This Mess is a Place: A Collapsible Anthology of Collections and Clutter, edited/curated by Zoë Mendelson, published by And Publishing, London, 2013
EXCERPT:
"In preparation for writing this text – which will focus on collecting, obsessions, the desire for omniscience, the irrational and the chaos inside my own head – I read everything I can get my hands on. I have a premonition that these topics are related, and it is my intention to connect the dots, find the 'big picture' and write an ingenious text about it. I browse through my bookcase, skim through my collection of literature on art and mad- ness, search and find many absorbing articles on the Internet: about Walter Benjamin's bibliomania; about Derrida's 'archive fever'1; about the influence of Freud on museology. I stumble from one fascinating text to another, adding what I find to my reading list, I scrabble, I hunt, looking for more.
You can order the book here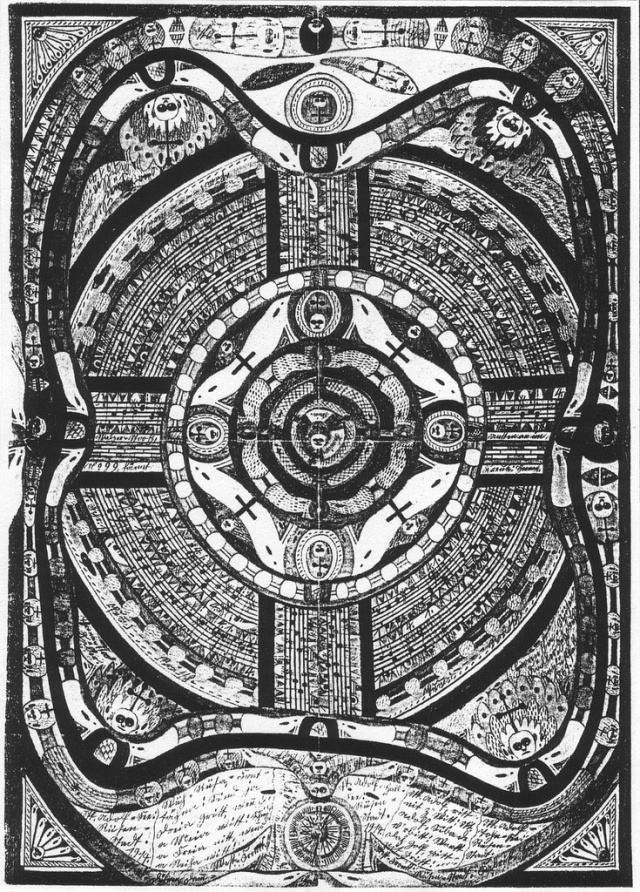 Adolf Wölfli, The Sea and the Rings of Islands, 1914 
The book This Mess is a Place includes articles, artworks, interviews and fiction. Alongside collaborators from psychiatric and archival fields there are contributions of artistic projects from Jim Bay (UK); Michel Blazy (FR); Carrie M Becker (USA); Marjolijn Dijkman (NL); Nat Goodden (UK), Jefford Horrigan (UK); Dean Hughes (UK); Mierle Laderman Ukeles (USA); Robert Melee (USA); Zoë Mendelson (UK); Florence Peake (UK); Michael Samuels (UK); Kathryn Spence (USA); Tomoko Takahashi; Robin Waart (NL); Julian Walker (UK) and Laura White (UK)
The publication contains essays and documents by Dr. Colin Jones (Senior Lecturer/Researcher in Applied Health and Social Sciences, UK); Dr. Haidy Geismar (lecturer in digital anthropology and material culture, US/UK);Jeremy Gill (urban planner and theorist, AUS); Cecilie Gravesen (artist, curator and writer, UK/Den); Dr. Alberto Pertusa (consultant psychiatrist, UK); Daniel Rourke (artist and researcher, UK); Isobel Hunter (archivist and Head of Engagement at the National Archives, UK); Satwant Singh (nurse practitioner and cognitive behavourial therapist, UK); Nina Folkersma (curator and critic, NL); Alberto Duman (artist, writer, UK). A full list of essay titles can be seen here. The publication also includes documentary photography by Paula Salischiker (ARG) and an interview with an anonymous hoarder's daughter.
The publication includes a newly designed reprint of Italo Calvino's essay of 1974-76, La Poubelle Agréée.