Stem Terug! Vote Back! – a festival on the state of democracy and the role of the arts as a catalyst for new ideas and ideals, organized by de Appel arts centre, Frascati and the Sandberg Instituut/Design Department.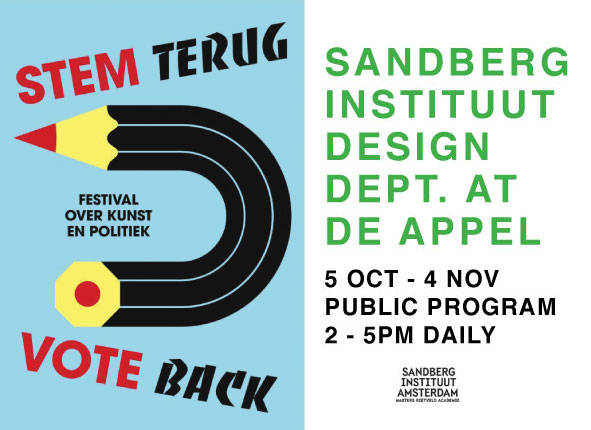 At a time when the political landscape in the Netherlands is changing, just after the Dutch elections on September 12th 2012, de Appel arts centre, Frascati and the Sandberg Instituut organise Stem Terug! Vote Back!. The entire month of October, we present a festival full of public masterclasses, exhibitions, performances and debates.
On this occasion, the design department of the Sandberg Institute has moved to de Appel for the entire month. The main room on the first floor has been turned into a "public arena" in which is reflected on artistic practices with political ambitions in master classes, lectures, films and presentations. The room next to it is the "visual think tank" from which the 19 master's students will develop various visual strategies which they will present to the public every Saturday before passing on to the guest speakers.
The temporary move of this department to de Appel serves as a catalyst for educational practice. In the history of the department, the doors have never been opened so wide: all the regular lessons are open to the public and in the visual think tank the visitors can even take a look over the students' shoulders. For the Sandberg Institute it is a way of examining, together with a broader public, how artistic practices can contribute to democratic decision-making processes.
See the full programme in the "public arena"