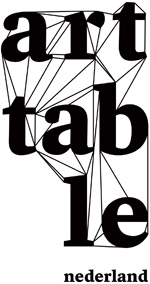 As of May 2012, I have the honor of being the chair of the board of ArtTable Nederland.
ArtTableNederland wishes to create a platform for meeting and inspiration for professional women in the broad domain of the visual arts and, where necessary, promote the position of these women.
ArtTableNederland offers prominent women scope to meet each other, make contacts and become more knowledgeable, with the objective of learning from and stimulating each other. Currently, ArtTableNederland has more than one hundred members.
The highly divergent spheres of activity, varying visions and interests create the opportunity for cross contacts. ArtTableNederland is a flexible organisation and its members support new initiatives.
ArtTableNederland was founded in 2005 by Deborah Campert, first Chairwoman, and Marieke Sanders, first Treasurer.
ArtTableNederland is a society established in Amsterdam and registered in the commercial register. It has an executive committee, a ballot committee and an office coordinator.